Profile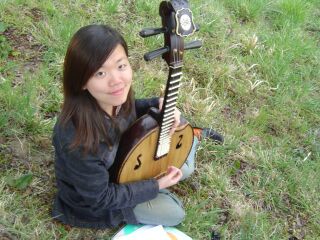 I was a former engineering student from Tohoku University, Japan. Right now, I am back in Singapore, still pursuing my interest in Zhong Ruan.

Playing the Zhong Ruan has been my favorite pastime ever since I started joining the Chinese Orchestra in my junior high school [Chung Cheng High School (Main)] when I was 13 years old. However this was not the case in the beginning. Influenced by my father and my sister who are both adept Chinese flute players, I originally wanted to learn the flute or the more popular erhu. But as I joined the Orchestra later than most students, I was assigned the Daruan, or the Bass Ruan. Though at 1.64m, my hands are smaller than most people of my height and I struggled with much difficulty to play even the simplest pieces.

It was only when I was 15 that the conductor introduced me to NTUC Chinese Orchestra, a amateur Chinese Orchestra that was of a pretty high standard, that I started learning Zhong Ruan. Originally I was a little apprehensive and I wanted to stick to Da Ruan, but the Zhong Ruan instructor, Ong Eng Lam, inspired me to stay on learning. It was then that I started to love playing the Zhong Ruan.

Sad to say, NTUC Chinese Orchestra is now defunct but I joined more Chinese Orchestras outside school every weekend. In 1997, I started learning under Ding Xiao Yan, a renowned Zhong Ruan player, who introduced playing Zhong Ruan using fingers instead of the usual pick. However due to other commitments, I had to stop taking lessons. In the same year, I took the Zhong Ruan Graded Examinations offered by the Central Conservatory of Music Beijing for the first time in Singapore's history.

In 1999, a year before I left for Japan, I studied under the tutorage of Zhang Nian Bing, a former professor from Shanghai Conservatory of Music who encouraged me to perform my first solo in Da Ruan in my first concert performance.

Leaving for Japan was a difficult choice for me as I had to stop learning Zhong Ruan. But I was offered more opportunities to perform. Starting from small performances in elementary schools, I was asked to put up a 20 minute performance in a restaurant in Sendai. In May 2003, I held my first Zhong Ruan concert recital at Ryoku Suian Sendai. In the same year, I was lucky enough to meet someone who is interested in doing a Piano-Zhong Ruan ensemble.
Still fired by my passion for Chinese Orchestra and Zhong Ruan, I joined the Hsinghai Art Association Chinese Orchestra in May 2005 after my return to Singapore and have been performing in its concerts on a regular basis, including a number of solo performances. In the same year, I obtained a Grade Nine (Distinction) in the annual Zhong Ruan Graded Examinations offered by the Central Conservatory of Music Beijing.